Mission Statement
Barnard College's Environmental Science Department provides highly motivated young women with challenging and rewarding programs in Environmental Science, Environmental Biology, and Environmental Policy, now Environment and Sustainability. High academic standards, multidisciplinary courses, and training in methodologies such as field work, measurements, and data analysis, ready our students with the tools needed to think critically, evaluate and solve problems, and understand and communicate science to address the needs of society... Read more of our Mission Statement in About Us.
Program Planning Meeting for Returning Environmental Majors and interested Majors and Minors, Tuesday, July 21, 8 pm
Interested students are invited to join us for the Environmental Science Department's Fall 2020 Program Planning Zoom Meeting on Tuesday, July 21, 8 pm and should have received notice with the zoom link on the BC EnvSci Events Calendar.  We strongly advise that you attend as will be discussing course options, fulfillment of the major and what Fall and Spring will look like.  We will also have more information about thesis planning and the Senior Seminar and will be available as a group to discuss options and answer questions. Individual and small group planning meetings with individual advisers will take place on Thursday and Friday, July 23 and 24.  If you are a Barnard student who needs this link please send an email us from your Barnard address requesting the link. 

Meanwhile, check out the Our Fall Course Schedule and stay apprised to changes in the Directory of Classes.  You may also want to revisit Registration procedures and helpful information about classrooms and class types.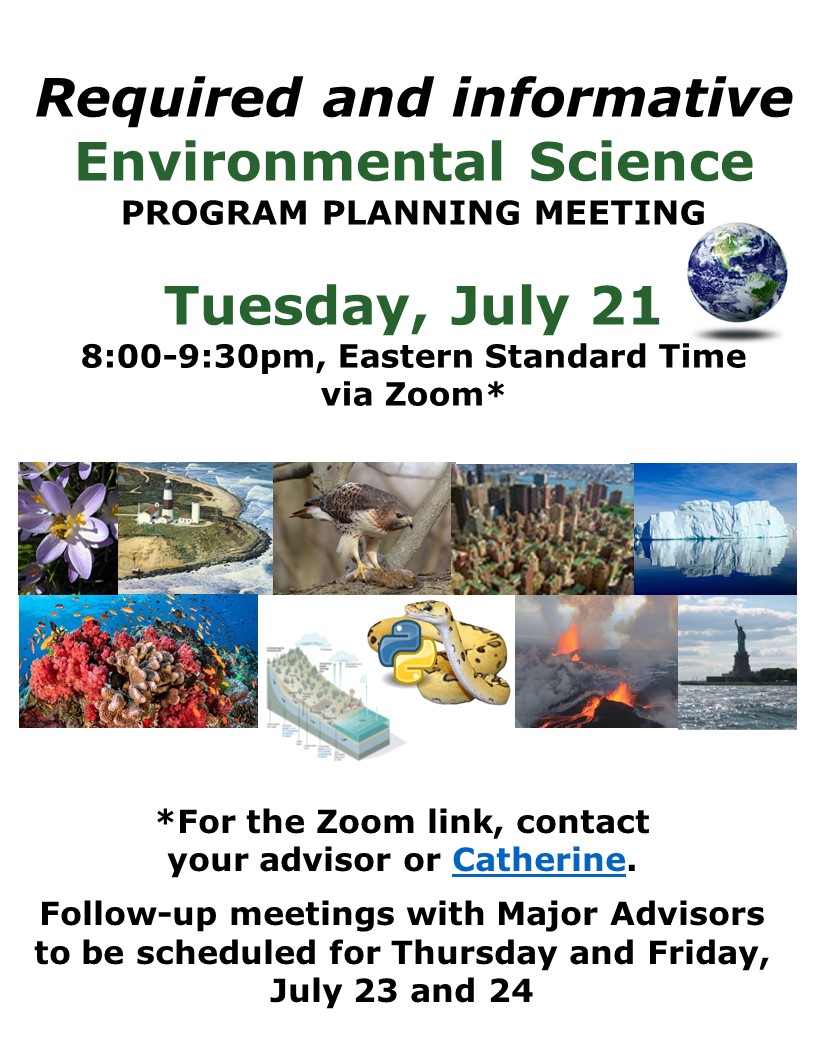 Environmental Majors and Minor